Professional Furniture Junk Hauling Services in Pittsburgh
Schedule Junk Removal Services in Pittsburgh
If you're searching for a dependable junk removal service in Pittsburgh, you can schedule junk hauling in Pittsburgh, PA conveniently now. Let our junk hauling company remove clutter. We offer superb service at affordable prices!
Junk Hauling Companies: Not All the Same
Our company offers the best service possible when assisting our customers. We serve Pittsburgh, PA, Ross Township, PA, and outlying areas. In fact, our company offers junk removal in Philadelphia and junk removal in Atlanta, too.
Do you want to work with the finest junk removal service in all of Pittsburgh, Pennsylvania? If you do, then we're here for you at 1-800-Haul-Out. It doesn't matter if you're a hoarder or if you simply want to clear out your living space for the changing of the seasons. We can connect you to a junk hauler to help you reverse your cluttered existence. If you want to work with a junk hauler who is methodical, adept and hard-working, then nothing can be better than reaching out to the 1-800-Haul-Out crew.
Book Your Free On-site Estimate Today
Junk and Debris Pick Up in Pittsburgh
Use a Full-Service Waste and Junk Removal Firm
Customers ask us to perform junk hauling in both commercial and home settings. We offer comprehensive services. Ask us to provide bed disposal and mattress disposal during a house clean out or request same day junk removal during construction cleaning. We provide yard junk removal and yard waste disposal services, too. Not all companies offer a complete hauling service with recycling and/or disposal, but we do! Customers seeking junk removal companies to perform hoarding clean up assistance often choose us for this reason.

What makes junk removal service such a good idea? Getting rid of junk, first and foremost, can be highly liberating. It can make your place of residence feel and look tidy, fresh and inviting. It can even do away with possible hazards. If you want to steer clear of perhaps tripping and falling on clutter on your living room floor, then nothing can work better than professional junk removal. We can give you a junk hauler who can help you take charge of things you simply do not need and want. If you're a hoarder who has too many clothing pieces, we can aid you. If you're an average human being who has too many clothing items, jewelry pieces, recreational supplies and beyond, we can aid you as well.

You don't have to let being a hoarder rule your life in Pittsburgh. The assistance of our junk removal business can be a big game-changer for you. It can be a big game-changer for your home as well. The help of a professional junk hauler can get you on the path to a home that's bright, airy, open and free of pointless clutter.

Do you want to hire a junk hauler in Pittsburgh? Call our acclaimed Pittsburgh company at any time to find out more about how we can assist you. Your clutter can be ancient history soon.
Junk Hauling Made Easy
Do you need to obtain a rapid house clean out to return a property to the rental or sales marketplace as soon as possible? Ask us to provide this assistance in Pittsburgh. Our appliance removal service and air conditioner disposal services can help you clean up your home quickly. Bulky items pose no problem for us. We offer both refrigerator removal and safe refrigerator disposal services. Our experienced team performs complete furniture hauling. Use our junk removal service to help return your real estate to great condition quickly.
We'll Help You Remove Debris from The Yard, Too
Not all junk removal companies provide residential exterior cleanups. Yet we supply comprehensive yard waste disposal and hot tub disposal assistance. Use our hauling service to cart away discarded items abandoned outdoors. We offer reliable furniture pick up and furniture hauling in Pittsburgh and Ross Township, PA. Customers seeking yard junk removal know they can count on us for complete home junk removal assistance. We'll help you restore the premises to an appealing move-in condition once again!
Some Types of Construction Debris Hauling on Request
We offer non-hazardous renovation waste removal services. While by law we cannot dispose of chemicals, gasoline, certain paints, and propane cylinders, we do offer general demolition junk removal assistance. Construction sites in the Pittsburgh, PA area sometimes suffer from extensive littering. People may discard mattresses, furniture, or old appliances in these locations. When construction companies need fast construction debris removal assistance, they call 1-800-428-5688. Ask us to provide demolition junk removal services. Not all junk removal companies respond rapidly to requests for construction site furniture pick up or mattress pick up assistance. We do! If you require fast demolition debris removal assistance, go ahead and call us now at 1-800-428-5688. We'll let you know what types of items we can remove for you.
Considerate Assistance for Hoarders
In addition to performing construction junk removal, we serve another specialized waste and junk removal need. Do you know someone with hoarding issues? Other junk removal companies sometimes ignore these customers. We provide fast, considerate hoarding clean up services! Depend on us to furnish waste and junk removal assistance for hoarders. Schedule a dirty mattress pick-up or other home junk removal services conveniently. We also offer broken appliance removal services and air conditioner disposal assistance. Ask us to remove clutter and debris if you're in need.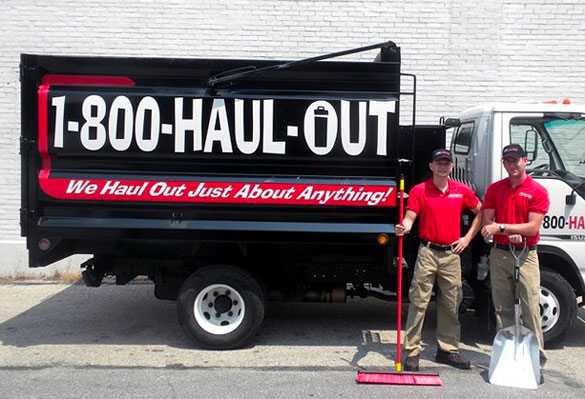 Routine Residential Hauling Assistance
Many other residents of this area appreciate our convenient services, as well. Have you purchased a new mattress and you'd like assistance with old mattress disposal? Simply contact us at 1-800-428-5688. We offer complete home junk removal, including bed disposal. Obtain affordable recycling of other unwanted, bulky furniture items and appliances, too. We strive to offer the best service to our customers, so we adhere to a flexible pick up and furniture hauling schedule.
Choose Only the Best Haulers
We hope our outstanding customer service delights you. Additionally, we offer other important advantages: experience, an energetic team, and dependable equipment and trucks. Our firm complies with legal and safety requirements. From home junk removal to specific types of construction debris removal and renovation waste removal, we offer fast, environmentally friendly assistance. We recycle whenever possible.
1-800-Haul Out: We Haul Out Just About Anything!
At 1-800-Haul-Out, we can provide you with several services for your junk removal needs. If you're looking for the best trash removal company service in Pittsburgh, then look no further. Our services range from junk removal, bulk trash pickup and removal, and junk hauling. In reaching out to us, we can provide you with a junk hauler to help clean out your unnecessary, unwanted junk and do so whether you're looking for this service commercially or in a home setting. Our junk hauling system, as opposed to some other companies, is complete with both disposal and recycling. If you're looking for professional junk haulers in Pittsburgh, then rest assured, there is no need to look further as our system is comprehensive and we can adapt to your junk removal needs, in different ways such as construction cleaning, AC disposal, and refrigerator disposal. Our junk hauling services are handled quickly, efficiently, and effectively!
If you have items that are bulky and large, no need to worry, as we have appliance removal services as well, dealing with bulk trash removal, providing air conditioner disposal, refrigerator removal, and bulky furniture. So, for your bulk trash removal and bulk trash pickup, our junk haulers will aid you in clearing out debris and decluttering your space. If you're in Pittsburgh, PA and have hoarding issues and are looking to remedy a messy area, have a cleaner and more spacious environment, than 1-800-Haul-Out is for you. Our team doesn't only work quickly and efficiently but is also very energetic and considerate to your concerns and needs and will make sure that we provide you with the best hauling service you can find. Our junk haulers are also concerned with the environment and will recycle when possible. Whether you're looking for construction debris removal or home junk removal, or bulk trash pickup, we can aid you with reliable service, equipment, and trucks. During construction cleaning, here in Pittsburgh, PA, if you need mattress or bed disposal, we provide a solution.
Here in the Pittsburgh area, we also offer same day removal. So, if you're looking for a team in Pittsburgh, PA that will work comprehensively, can help you with bulk trash removal, bulk trash pickup, junk removal, construction cleaning and supply you with a variety of different needs, then turn to 1-800-Haul Out, where we haul out just about anything!
Schedule an Appointment
Our availability for same day junk removal appeals to customers in the Greater Pittsburgh Area. Obtain fast, honest, affordable service. Call 1-800-428-5688 now!
Junk Removal Assistance in Pittsburgh, Pennsylvania
Fine Junk Removal, Demo Clean Up and Bulk Trash Pickup Services in Pittsburgh, PA
Do you want to secure five-star junk removal service in Pittsburgh, PA? We can assist you with everything from old refrigerator removal and mattress removal to construction debris removal and bulk trash pickup services at 1-800-Haul-Out. When you need junk removal in Ross Township, PA, we're the local company for you. Our junk haulers are seasoned, capable and hard-working professionals. Our junk haulers are consistently respectful and on time as well. If you want to invest in furniture pickup assistance that's worth your energy, we're ready for you. Our junk removal services cover all of the bases for people who are interested in home renovation, relocation, spring cleaning and more. If you want help hauling junk, get in touch with our team.
Why Help Hauling Junk Is Optimal
Hauling services can come in handy in all sorts of ways. Our hauling services can aid you with mattress removal, refrigerator removal, demo clean up, construction debris removal and more. Mattress removal and refrigerator removal are two things that can be helpful during the complex relocation process. Construction debris removal can come in handy after you're through with home remodeling work. Our furniture pickup assistance can be a huge help for moving projects, renovations and spring cleaning missions. Calling us for junk removal can clear a lot of space for you. Our junk removal service can also save you time. It can be tiring to tackle junk removal work by yourself. Construction debris removal and mattress removal are two tasks that call for significant physical exertion. Our furniture pickup can save you from injuring yourself. Our furniture pickup can save your weekly schedule. If you want to get bulk trash pickup that can be good for your wellness, let us know. Our bulk trash pickup can save you from having to visit waste facilities numerous times in a row. If you want the most helpful bulk trash pickup assistance around, our company is the greatest option.
Inexpensive Junk Haulers in Pittsburgh, PA
Our junk haulers are inexpensive. If you want help from junk haulers who are inexpensive yet impressive, we're the company that should be highest on your list. Our furniture pickup and demo clean up work is a bargain. If you want Pittsburgh, PA junk removal services that epitomize value, tell us. Our Pittsburgh, PA junk hauling services are effective and efficient.
Hauling junk can be simple for people who opt for our junk hauling services in Pittsburgh, PA. If you need help hauling junk, call our team. Our demo clean up approach can be done as quickly as possible, so we don't have to disrupt your daily life. Our Pittsburgh, PA junk removal services are thorough. Our junk removal services are the most dependable around. Call our team for junk removal services.