1800 Haulout Junk Removal in Delaware County, PA
Quick, Fast & Easy Junk Pickup Service
Every homeowner and business owner in Delaware County needs junk removal or trash removal when they are trying to move, renovate, or manage their property. You can order a junk removal service from us today for your large facility, home, or office. We handle junk pickup if you only have a few things to throw away, and we offer more professional services than other junk removal companies.
What does Junk Removal Entail?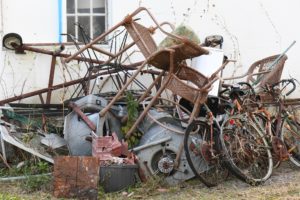 When you need junk removal in Conshohocken or Delaware County PA, you can talk to our junk removal team about what must be removed. We will handle a quick junk pickup, or we can remove everything from the building.
Our junk removal services include cleaning storage lockers, homes, offices, and warehouses. We will come to your Delaware County location at any time, and we will complete the junk removal service as quickly as possible. You can mark anything that our junk removal team should not touch, and we will ask you to review the work before we finish.
How does our Junk Removal Company set Prices?
We offer junk pickup, trash removal, junk removal, and bulk trash pickup in Philadelphia and Delaware County PA to anyone who needs it. We just estimate the total weight of your junk removal or trash removal job. We will give you a basic estimate if you tell us how many rooms are in the building. We can give you more accurate prices, however, if we come to your location first.
Can we Dispose of Mattresses?
We offer mattress disposal in Delaware County PA for people who own old hotels, clear out old homes, or have concerns about allergens in the air. We cover every mattress during the junk removal process, and we move quickly to get the mattress out of the building. We dispose of the mattresses properly, and we do not cause more harm to the people in the building.
Can we Remove Furniture?
We can take furniture out of any Delaware County building without causing more damage to the building. Our junk removal company knows how to remove furniture through windows or open patio doors. If you like, we can break down the furniture as part of our junk removal service. Mark anything you want to keep, and we will remove every other piece of furniture.
We Coordinate with Movers
We can come to your Delaware County home at any time for junk removal, and we will coordinate with your movers to help you get out of the house. We can handle trash removal while the mover takes out your personal belongings and furniture. Other junk removal companies do not work this fast, and they might force you to wait for your trash removal or junk pickup.
Most Trusted Junk Haulers in Delaware County, PA
You do not Lift a Finger
When we arrive at your Delaware County PA home, we will take care of everything. You need to set out items for a junk pickup, but we will do the rest. If you are are not in the building, we will complete the job as quickly as possible. We can send you progress reports on the job if you need them, or we can handle junk removal while you do other things around the building.
If we have any questions, we will stop work to ask you. We also work with renovators who cannot be in the building at all times. You can hire us when you have other contracting work to do, and we will handle the junk or trash services while you are away. We do not ask you to help, but you can mark all the items that should be removed.
Who Needs These Services?
We provide these services to anyone who needs them. If you are moving or selling your home, you need to remove all the junk and trash. The house needs to be ready to be swept when you sell it, and we can make that possible in just one day. We send all the trucks that you need for the job, and we will work quickly especially on the day that you move.
If you are renovating, we can throw out anything that does not aid in the renovation, or we can pick up the junk that you left behind after the renovation was completed.
Conclusion
When want to clean out an old home, office, or facility, you need help with all the junk that is in the building. You can use our services at any time, and we will coordinate with a mover when necessary. We have an understanding of how to complete the job as fast as possible, and we can break down furniture if needed. We cover mattresses before they are removed from the house. Also, we will handle any curbside pickups that you might need.